Volunteer
VOLUNTEER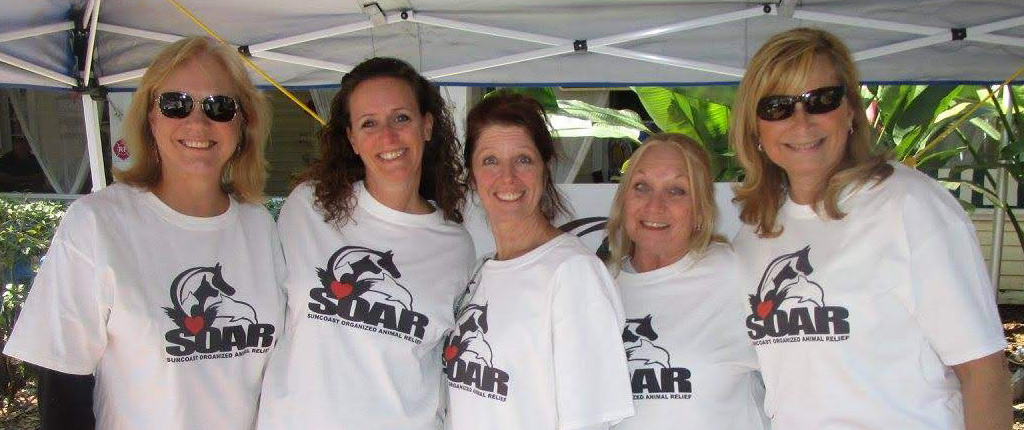 "Volunteers do not necessarily have the time; they just have the heart." ~ Elizabeth Andrew
Thank you very much for your interest in volunteering for SOAR!  The wonderful work you do is very important and there are many ways to lend a hand and heart to make a difference for families and individuals, animals, and rescue organizations. 
Although SOAR does not directly take in rescue animals, we work closely with many local, county, and regional rescue organizations in the Tampa Bay area to help identify volunteers to assist with the care and rescue efforts of animals.  SOAR is also available to assist individuals in need including war veterans, single parents, and families who may be struggling to support their cherished pets. 
As you can tell from our logo, SOAR goes beyond helping our dear family pets.  We are actively involved in saving the environment for our wildlife and precious sea life.  We often partner with Keep Pinellas Beautiful by participating in area beach clean-up events.  Together, we have hauled away massive amounts of trash and recyclables that would have, otherwise, directly affected our beautiful waters and beaches impacting large populations of our sea life including dolphins, sea turtles, manatees, pelicans, fish, and more.
As a SOAR volunteer, you will be able to assist with our fundraising campaigns and events, while having a great time meeting those in our community who have the same desire to support rescue organizations.  Noted below are available volunteer opportunities with SOAR:
Office Volunteer:

 

Approved volunteers will spend time in SOAR's office answering phone calls, managing our various databases, coordinating events, and other activities as defined and required by SOAR.
Field Volunteer:

 

Approved volunteers will be responsible for collecting/managing the Donation Campaign Boxes, ensure adequate supplies are available at the Pet Food Banks, and other activities as defined and required by SOAR.
Event Volunteer:

 

Approved volunteers will dedicate their time at beach and park clean-up events, assist at Yappy Hour events, assist at food drive events, assist at fundraiser events, and other activities as defined and required by SOAR.

Schedule Volunteer Orientation
SOAR will also be putting together a database of approved foster people and homes that will be available to Tampa Bay area rescue organizations.  This will aid rescues when they are faced with taking in unexpected volumes of abandoned animals as a result of weather occurrences such as hurricanes.  SOAR was instrumental in assisting rescue organizations, during the very busy and catastrophic hurricane season of 2018, that severely impacted areas in Texas, South Florida, Florida's Panhandle region, and Puerto Rico.
As a SOAR volunteer, there will be many opportunities to help advance our mission of providing a lifeline for all rescue animals and rescue organizations.  If you LOVE animals, sea life, wildlife; and, also want to support the environment in which they live, we hope you will consider joining our team.  SOAR volunteers are greatly appreciated and not taken for granted.  We understand time is valuable; and, we will always be very grateful for the time you are able to volunteer with us.